I'm sorry… that's not a very imaginative blog post title, especially
after more than a year's absence from the blog.
But, it's a pretty accurate description of my reaction when I finally
finished the "seven year sweater"!
You
last saw this as a work in progress in November of 2008. At
that point, I had gotten far enough into it to understand some of the
errors I'd made as a neophyte designer. I contemplated
ripping it out and repurposing the yarn. But, I let it lounge
in its project bag for a while, then I took it out and worked on it in
a "I must knit 2 rows of this before I can knit what I really want to,
today" kind of way, and then I sucked it up and just knit the rest of
it. And mattress-seamed the sleeves and sides.
And it even fits! Which is, in itself, kind of a miracle.
Although my arms have hardly changed length, the rest of me has been
several different sizes in the 7 years since I designed this sweater!
There are more pictures and details on my Yarn
Gallery page. And, yes, there are many more projects posted
there — although I fell of the blogging bandwagon pretty seriously,
I've been diligent about keeping the gallery up to date. So, you
can see what I've been up to. Amount of work travel is directly
proportional to the relative percentage of smaller projects (socks,
shawls) knit. Sigh. Yes, I could probably figure out how
many sock projects it takes to become a United Airlines million miler.
One of the more fun recent projects was the Morehouse Farms Hedgehog
mitten, which I knit using Green Mountain Spinnery Alpaca Elegance.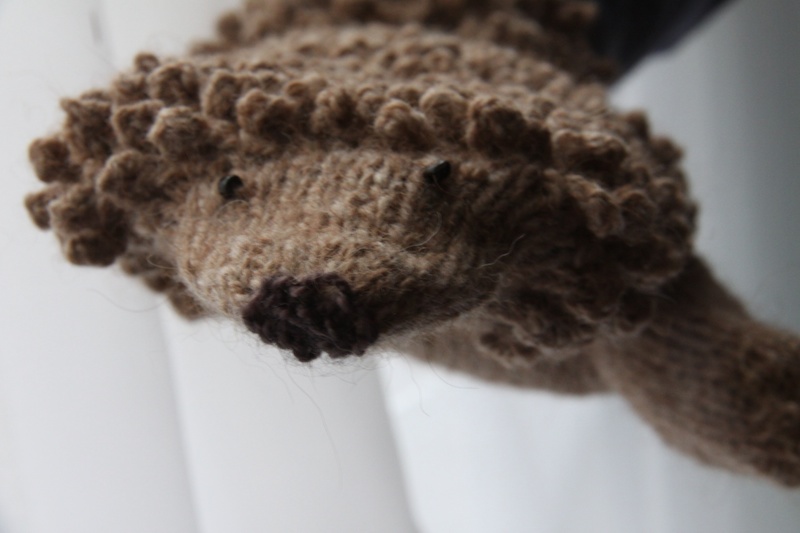 Knit the bulk of that project while attending ITU telecommunications
treaty meetings. It's a good thing the Alpaca Elegance is so
enticing to work with — it kept my sharp, pointy knitting needles at
work, and not stabbing myself (or someone else!) for the stultifyingly exciting time it was,
to borrow a phrase the other half coined for the meetings.