Here's an old project, still underway: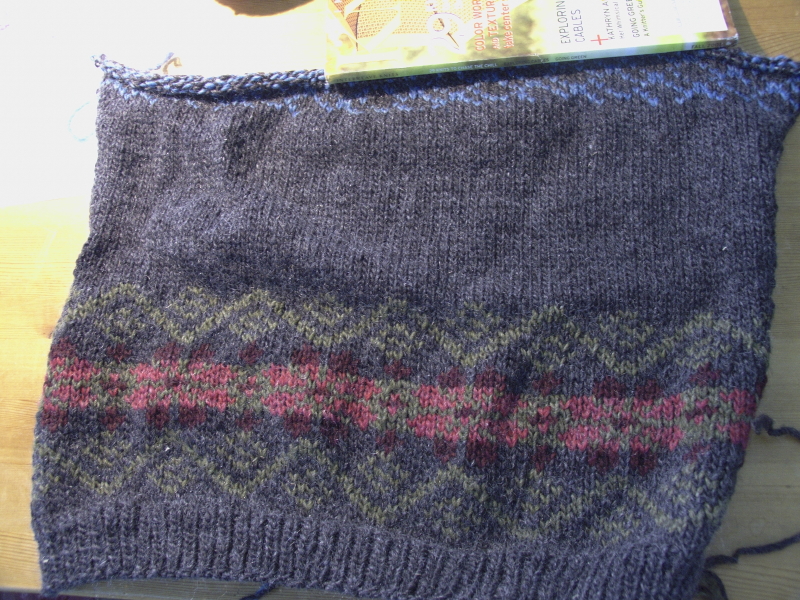 That picture was taken over a year ago (September 2007). There
has since been progress — but only a couple of inches or
so. And this is the first piece of the sweater — there's a
front and 2 sleeves to go after this piece is done.
It's from my own design, and there are 2 reasons it's particularly slow
going.
the patterning is inobvious — it's painstaking to memorize a
chunk of the pattern so that I can knit a row without having to look at
the chart for every single stitch
there isn't anything like enough contrast in value between the
different yarns to give this the punch it should have
So, I'm picking at it from time to time, between projects, pressing on
to finish but not with enough energy to actually make significant
progress.
The first issue is a matter of lack of experience in pattern designing
— I have gained a new appreciation for the value of building
interesting things from simple building blocks (e.g., easily repeating
motifs that build up in clear progression from one row to the next).
The second could easily have been handled by, say, doing a SWATCH, with
the real yarn, instead of relying on the colours I had chosen to
represent the yarns in the knitting design software: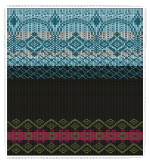 Sigh. Lesson learned.
Here are a couple of closeups to admire the yarn, which is Green
Mountain Spinnery Mountain
Mohair. I do think it is a wonderful yarn, and this is not
the first time I've used it.
Failed
contrast
Glowing
mohair
Of course, I could, and perhaps should, pull it all out and do
something more successful with the yarn. I dunno. The
overall project is over 2 years old. Do I want to restart the
whole design process? Or plug away until I have a finished object
to declare victory? I guess I'm stubborn, and want to finish the
original design: I think it will be perfectly wearable, just not
spectacular. But at this rate, I could pull it out, redesign and
reknit it before I ever finish this original plan…