I'm sensitive to the mutterings I've been hearing lately — that for "knitbot", there sure isn't much knitting content on this blog. Well, this post is not going to change that situation!
If you happen to find yourself considering making Bon Appetit's Devil's Food Layer Cake with Pepperming Frosting, there are a couple of things you should know.
First, if you have a stand mixer with a paddle blade, get yourself one of these silicone self-wiping paddle attachments:
This is a SideSwipe. It seriously removes the need to be constantly scraping down the mixing bowl as you work — which more or less improves the effectiveness by (subjectively) 50%. I fell in love with my KitchenAid all over again…
Second, when they say 2 nine-inch cake pans, 2″ deep. They mean minimum 2″ deep. Otherwise: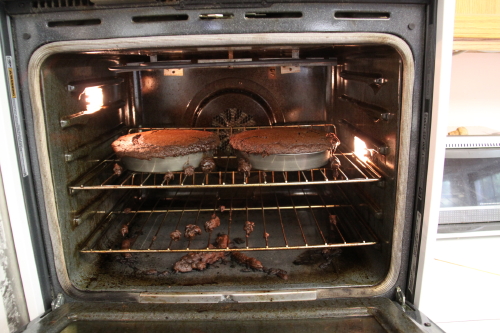 Not only is that a "switch oven to self clean mode, do not pass Go, do not collect $200" situation, it is not possible to salvage the cakes in the pans, even if cooked — because they are too delicate to extract from the pan:
Well, those cakes wound up in the freezer, no doubt to reappear for some future dessert (chocolate cake trifle, anyone?).
And, the third thing you should know is that the resulting cake (once you've given in and recognized you don't have 9″x2″ cake tins, and bake the cake batter in 3 9″x1.25″ tins) is really, really tall:
(Yes, I can count. The middle cake is split in two, to make 2 layers of four).
Personally, I thought that height was out of control. Moreover, I could not fathom how I would cut and serve it without making a toppled mess. So, I quickly did a re-distribution:
Worked out okay — though, not surprisingly, there wasn't quite enough frosting to cover the top of the second cake:
And, you should consider making the cake — because it is very very tasty. Decadently rich, of course, but certainly worth the effort of making the cakes from scratch (yes, much better than box cakes, even if you have to make them twice 🙁 ), the bittersweet chocolate ganache, the white chocolate filling, and the peppermint boiled icing…