Every now and then, the question comes up on knitting message boards — "can I take my knitting project on the plane?". There is no uniform answer across the globe. Generally speaking, knitting needles are allowed through airport security in Canada and the US, but not allowed in a number of European airports. And, there are plenty of stories of sad knitters who have had to throw out their expensive Addi Turbos at the security checkpoint, leaving their knitting project in a tenuous state of unattached stitches. I've even heard of some airports requiring people to cut the cable on their circular needle, for fear it would be used as a garrote: safer for the knitting project than abandoning the needle, but end of useful life of the circular needle.
For myself, I really like the Denise plastic modular needle set: the modularity is convenient. The plastic pieces are innocuous, and may not even show up on security scans. Sure, they are not Addi Turbos, but they are still pretty usable needles.
Apart from that — I keep a small project (like, a sock project on 5″ wooden needles, such as Grafton Fibers' Darn Pretty Needles, which are sturdy and sharp) just for travel.
When traveling to or through Europe, I don't bring knitting projects on the plane — but I have a travel crochet project I bring just for the plane rides. The theory is simple — it's a crochet hook, not a needle. And, if they ever give me grief and cause me to surrender the hook at security, at least I've just got the one loop to secure, and the project will not unravel until I have a new hook. Yeah, I like knitting much more than crochet, but I like crochet considerably more than being BORED MINDLESS on a plane, watching movies I never wanted to see, on half-failed entertainment system (should I change airlines? 🙂 ). Knock on wood — it's worked so far.
Of course, if you have travel knitting (or crochet, as here) — you should take it out and show it a good time, while traveling: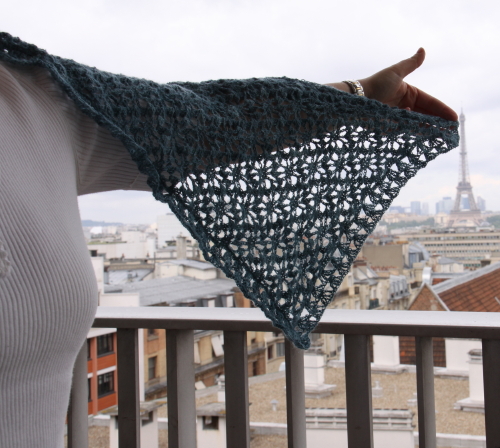 This crochet stole is now finished — I'll provide more details, gallerize it and declare it an FO when I've gotten it home and properly blocked (along with another lace project, finished up last month). It's no particular pattern — just a stitch pattern I thought looked pretty, that I did for four feet of stole, and threw an edge around 🙂
See — the knitting (and crochet) continue, even if I don't blog about it every five minutes!
One more shot of the stole — where you can see some of the detail in the patterning.