The eagle-eyed will have observed
evidence of a
work in
progress
, some time ago. I am pleased to report that the
remake of a cable sweater I'd made (17 years ago?), from a Family
Circle pattern, is now complete!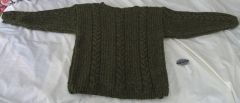 I used the
Jo
Sharp Silkroad Aran Tweed I'd bought a year ago
, in Perth. I
really enjoyed the yarn — it felt nice to work with, and produced
excellent stitch definition and a lovely fabric. It's sort of
slubbed — a little uneven in thickness — so it's going to produce a
textured surface whether the pattern includes textured stitches or no.
I know, I know — there are so many sweater patterns and possibilities
under the sun, why would you remake one you'd already done? I
made the original out of some generic acrylic stuff (I
might even still have a ball band somewhere…), and loved the sweater
to death. It was fast & easy to make. It fit
well. It looked reasonably well-crafted (which was particularly a
bonus, that early in my knitting efforts!). And then one day it
just gave up — stretched out and didn't stretch back. The
sleeves dangled. The collar fell off my shoulders. You know
what I mean.
The recollection of the easy/fun knit and rewarding result lead me to
cast on for this as my mindless/road trip project, and that was pretty
successful. Except that I finished it just at the very extreme
reaches of anything that can be called sweater weather in this part of
the world 😉 Wear reports will have to wait.
If you've been adventurous and clicked on the image above, you'll have
also discovered something else I've been slowly working on — the knitbot
FO Gallery. Obviously, I'm just beginning to populate it, but
I figured I'd test drive it on a few items and get it posted.
I'll probably be filling it in from both ends and the middle for a
while yet, from accumulated photographs.