… and don't you ever forget it!
We were driving by Castalia Marsh at high tide, the other day, and were astonished to see that it was completely flooded. It's winter, high tides tend to be at their highest, and we did just have a wicked storm system come through, that did significant damage in Port Elgin, NB. But, still — this was a couple of days later, and we'd never seen the Marsh as anything other than, well, a marsh, with small tufted islands and channels of water.
Instead (click for slightly bigger) — in the image below, you can see the picnic area almost overrun, and the remains of a couple of duck blinds poking out of the water in the distance.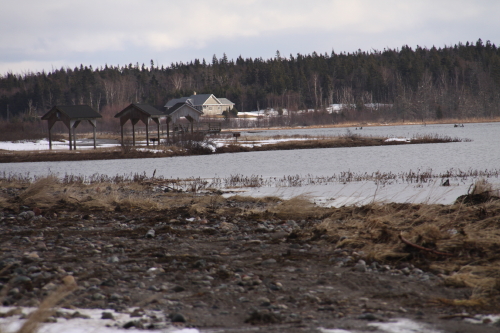 And, as you can see below — the causeway/breaker wall between the Bay of Fundy and the Marsh was completely overrun. The 3 pictures below show progress along the causeway, on what used to be the access road. It's now strewn with football-sized rocks, tossed up by the surf at some point. (While we were there, someone came by in their F-1Million pickup truck and tried to pick his way along — he gave up and retreated).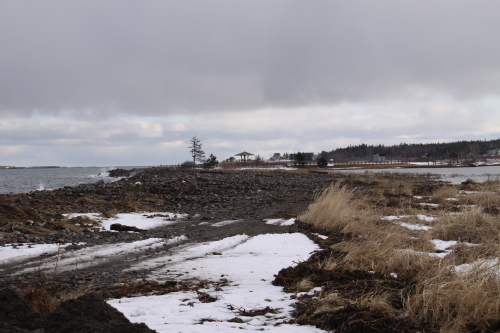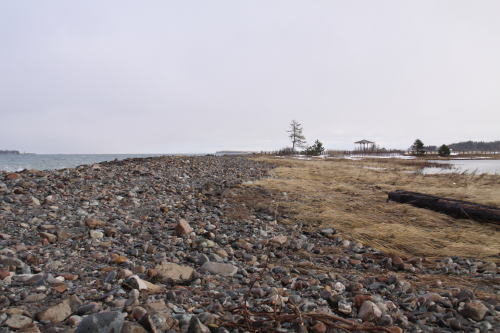 It always impresses me what the simple forces of nature can wreak on our carefully engineered, man-made interventions (like, say, roads).
A slightly different perspective — looking back at the exit from the picnic area parking: the road just stops:

The water was still somewhat stormy that day — lovely winter colours.
I dug through my old photos to try to find some useful comparisons. It seems that the things that were photogenic in the wintry, flooded, stormy state were not the same as the things I thought to snap when it was in its seasonal prime! But, a few comparative pictures of the surrounding shorelines, below (click for bigger pics).
| | |
| --- | --- |
| Before | January 2010 |
| | |
| | |
| | |