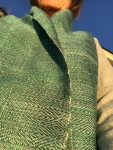 Seaside Seasilk Scarf (2017)
August 8, 2017 - No Comments
Pattern: Point Twill on 4 shafts
Yarns:
Warp: Handmaiden Sea Silk, most of one (100g) skein Jacobean blue
Weft: Handmaiden Sea Silk, entirety of one (100g) skein Bottle Green
Method: Weaving — on my 4 shaft counterbalance Leclerc Fanny
Completed: August 8, 2017.
My first project on my new-to-me Leclerc Fanny 4 shafter counterbalance loom, using a friction brake system involving water jugs and rope… it was great!
113 ends, 120" each, threaded at 12epi (in 8 dent reed). I was aiming for 75" of weaving, but ran out of weft yarn. Effectively, the patterning wasn't square — too many picks per inch, so that the diamonds were wider than they were tall. I'd say that it should have been higher epi (15 or 16 epi), but it seems to me the fabric would be too stiff. As it was, when I took the weaving off the loom it felt like it was too stiff for a scarf, and I was thinking of repurposing it as a tablerunner. However, a good soak loosened it up, and it's a fine scarf.
Measurements before soaking: 7.5" wide, 61.25" long.
Measurements after soaking: 7.5 – 7.75" wide, 59" long (it seems wider at the ends, than at the middle)