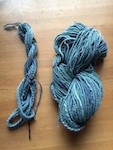 Not Cloud Nine Nube (2015)
March 10, 2015 - No Comments
Fibre:

  Malabrigo Nube merino, in Aguas colourway


Method: 

Spinning wheel — long draw, from the side


Completed:

March 10, 2015.
It seemed from the outset that this wanted to be "woolen spun", so I aimed for a long draw.  I found the fibre really hard to work with — it didn't want to separate into chunks to work with, it didn't want to draw nicely.   Reading up online, it seems many people have had issues working with Nube (which means "cloud", apparently).  Though, to be fair, many people seem not to have had any issues.  I can't say how much of my problem stemmed from lack of experience on my part.
So, what worked:  I peeled the fibre into 4 strips (as I went), pulling off hanks that I think spun "from the side" in a long draw.    That worked least poorly.  My aim was for a 3-ply.  When the first bobbin ran out, I opted to make a 2-ply with the remainder, rather than N-plying each of them.  Curiously, the two remaining bobbins ran out at exactly the same point!
3-ply:  ~115yds (DK weight)
2-ply:  ~ 10 yds (sport weight)
For all it was a bit of a trial to spin… I was amazed how nice it started to look once it was plied, and it's gorgeous once wet finished.  It scrunches nicely.  I wonder what will be fun to knit from this….
| | |
| --- | --- |
|   | The fibre, as it came out of the bag — pretty dense |
| | Closeups — of the 3-ply (L) and the 2-ply (R) |
| | Photos with thumb tack for scale |
|   | On the lazy kate (L).  The plying bobbin got really full (C) before the 3 bobbins ran out (R).  I usually get 4oz of spun fibre plied onto one bobbin — perhaps the woolen spun fibre was that much more voluminous! |
| | The yarn was pretty kinked when it came off the niddy noddy — but, washing sorted it out (I did 3 successive cold and hot soak/scrubs — this is meant to be woolen, after all…). |