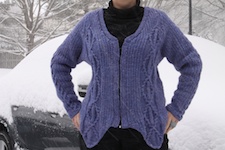 Triple Point Cardigan (2015)
March 4, 2015 - No Comments
Pattern:

 

Made it up as I went along 🙂

Yarns:

New Lanark AranMethod:  Hand knit
Completed:  March 4, 2015.
I bought the yarn at the New Lanark World Heritage Site in Scotland when I had occasion to visit in 2010.  The New Lanark stories (original incarnation; restoration of the site and the mill) are worth looking up, and a visit is definitely in order if you get a chance.    The yarn is lovely.  It knit up pretty crisply, and then relaxed *a lot* when I soaked the sweater.  The whole sweater is now quite drapey.
It took me a while to decide how I wanted to use the yarn to its best advantage.  Cables were a must.  I didn't want a generic "fisherman's crew", though.  I tend to favour cardigans, so that's what I knit.  And, somewhere along the way, I decided it would be cool to have the front panels end in triangles, and similarly the whole back.  Hence:  Triple Point.  I used Janet Szabo's "Cables Volume I" for the major design cable and the sleeve cable.  I really wish she'd publish Volume II — I love her stuff.
Raglan shaping because it suits me.  I deliberately tapered off the front panel design one repeat short of the top, because I knew the raglan and neckline shaping would impact it.
Tricky bits of this included figuring out how to get all the increases on the bottom points to line up so that the front points and the back point were at the same row of the cabled pattern when I wanted to join all 3 pieces and continue to knit from the bottom up.  I did knit the sleeves separately and then add them to the body so that the yoke was knit in one piece.  There were some monstrous long rows to knit before the decreases progressed!
| | |
| --- | --- |
|    | Back of the sweater |
| | Side view — so you get a sense of the sleeve cabling and of the 3 points. |
| | Flat — front view(L) and back view(R) |
| | Details — shoulder "strap"(L)Closeup of sleeve cable (pre-soak)(R) |
| | Neckline detail (L)Inside of the zipper band, which is folded over and crochet-stitched down, and the neckband which matches the zipper band on the outside but is not doubled (R) |
| | Pre-soaking:  back and front.  Yes.  Soaking does make that big a difference! |
| | Cable detail, pre-soaking (L)Inspection! (R) |
| | Starting point (see what I did there? 😉 ). It's clearest in this picture that the bottom point uses a stockinette fill for the pattern, not purl.  It's not a big deal, but it does mean the central cable is less prominent. |