Archive for:
December 2016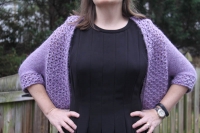 December 31, 2016 - No Comments
Yarn: Austerman Alpaca Silk (80% Alpaca, 20% Silk) Pattern: Avana Shrug by Annie Rowden Completed: December 31, 2016 Fun, fast knit! An interesting construction. I got gauge with this yarn and 4.5mm needles. Measurements after washing: 38" cuff to cuff
December 25, 2016 - No Comments
Fibre: Into the Whirled "Studio West" colourway on 60% Polwarth, 40% Tussah Silk.  approx 12oz fibre. Yarn:  ~419.3 yards of 3-ply, DK-weight; ~93 yds of chain-ply, leaning toward chunky weight. Method: Wheel spun with long draw Completed: October 15, 2016.