Sweet Georgia "PANDA" Sitka (2015)
May 5, 2015 - No Comments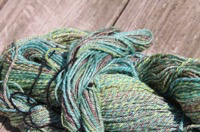 Fibre: Sweet Georgia Yarns "panda" — 60% sw merino, 30% bamboo viscose, 10% nylon. Sitka colourway. 100g of fibre.
Yarn: 3-ply: 222yds, chain-ply: 23yds
Method: Wheel spun with short-forward-draw
Completed: May 5, 2015.
This was my first effort at short forward draw, a result of starting to watch some online spinning lessons.  It is indeed remarkable how much drape the resulting yarn has, and sheen.  Compare, especially, to the fluffy, non-shiny braid I started with.