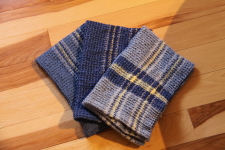 Halcyon Waffle Weave Towels (2011)
December 17, 2011 - No Comments
Pattern:

  Halcyon Yarn Waffle Weave Kit — Glacier Sunrise

Yarns:  Homestead 8/2 Cotton


Method: 

Weaving


Completed:

  December 17, 2011.
These are the second thing off my 8 shaft Schacht Baby Wolf loom.  I got the kit from Halcyon Yarn in order to have something with which to gain weaving experience, without having to make design decisions.  I simply don't have the experience to be able to plot out the many variables in design, and I found I was stalling starting any new project because of that.
These were woven with Homestead 8/2 Cotton, 402 ends at 20epi sett (doubled up in a 10 dent reed) — 20″wide, on the loom.  Per instructions,  I wove them to 30″ plus 1.5″ hem on either end (33″).    Off the loom, hemmed and washed, they shrank to approx 14.5″ wide and 22″ long.  That's a lot of shrinkage!  But, they are nice, squishy towels.
Following advice on the Internet, I did not do the hems in plain weave, but just did them in waffle weave (plain weave would flare more, apparently).
I thought I was running out of light blue cotton, so I put stripes in that towel.  The project was spread out over several months between measuring the warp, dressing the loom, doing the weaving, and then hemming and finishing them.    All of that to say that I had forgotten there was another mini cone of blue cotton in the kit box.  Sigh!  Stripes are good.
I would definitely do these again — would have to plan differently to accommodate that much shrinkage.
Finished towels — Medium Blue weft, Dark Blue weft, Light Blue weft (left to right)


The whole warp, strung out — 3 towels plus an end bit of fabric.
Pre-wash close-ups of waffle weave.  On the left, I used a thinner yarn (cottolin) to do the hem.  On the end bit of weaving, I played with some plain weave.  Separated woven items on the warp by 2 threads of very thick throwaway acrylic yarn.


Before and after — compared to an existing dish towel.  Far left:  before washing, the white towel is narrower and shorter than the woven towel.  After washing, the woven one is just about the same length, but it is now

narrower

than the white towel.  Yes, it's the same white towel!
Comparing the washed, finished towel against the unwashed woven end of the warp — the washed width is about 75% of where it started!