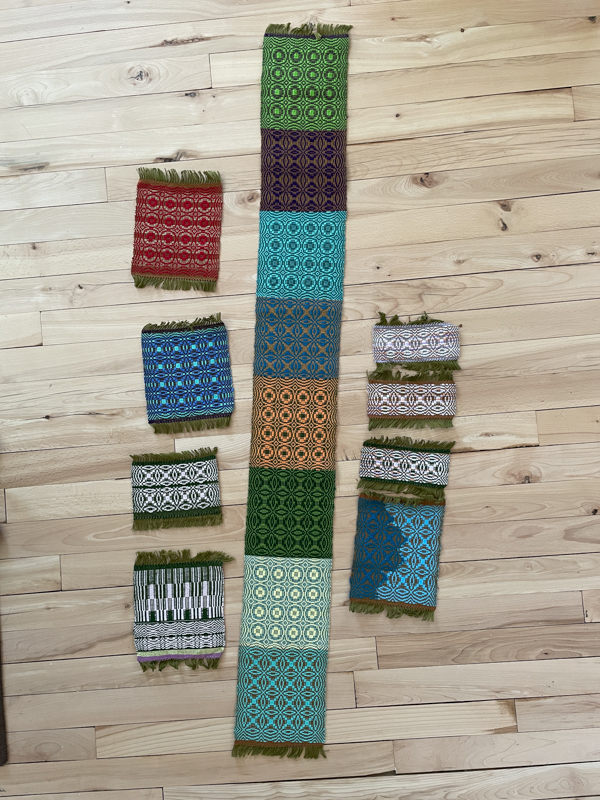 Unravelling Overshot Online Class (2021)
March 28, 2021 - No Comments
Pattern: A 4 shaft overshot pattern set by the class instructor (HoneySamples)
Yarns:
Warp: 132 ends, originally measured at ~5yds but then this was the second project on it; Lunatic Fringe 10/2 mercerized cotton in "Kelp" colour
Tabby weft:
⁃ A variety of 10/2 mercerized cotton (Lunatic Fringe and others), some playing around at the end
Pattern weft:
⁃ A variety of 5/2 mercerized cotton I had in stash, and some doubled 10/2 mercerized cotton; some playing around at the end
Sett: 20epi
Method: Weaving — multishaft floor loom.
Completed: March 28, 2021.
This is the product of participating in the "Unravelling Overshot 2021" online class led by Janet Dawson, in early 2021. A thousand of us signed up for a multiweek online class and learned about overshot — weaving it, playing int with structure, etc.
The weaving experience: I moved this warp from my table loom to the (8 shaft Baby Wolf) floor loom, having had a miserable experience trying to weave it in overshot in the previous class. And, the weaving was not only much easier, it also produced better (more even) results.
The learnings: Wow. This was fun, too! I had to come to grips with my understanding of how blocks form patterns in the weaving (i.e., relationship of threaded shafts, treadle tie up, and the treadling pattern). And, I continued the colour experimenting from the weave along that had preceded the class. Bear in mind that the olive green warp is common to every single thing woven. The tabby (i.e., the weft that is the same thickness as the warp and makes the plainweave part of the weaving) weft colours blend with the warp, and the pattern weft (double the thickness) doesn't, so much. You want contrast (hue and value) between the pattern weft and the blended tabby weft/warp. In the pictures below, I have included shots of some of the weaving in progress, so you can see the actual colours of the tabby and pattern wefts and see what happens to them when used.