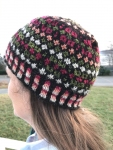 Merrie Dancers Toorie — Handspun Hand-dyed (2019)
November 22, 2019 - No Comments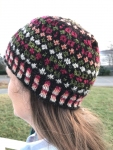 Yarn: Wheel-spun Shetland, mostly from a May 2018 workshop on natural dyeing
Pattern: Merrie Dancers Toorie, by Elizabeth Johnston
Completed: November 22, 2019.
This hat was actually a "homework assignment" from a workshop I did at Marshfield School of Weaving in May, 2018. That was "Dyeing & Spinning for Fair Isle Knitting" with Elizabeth Johnson and Martha Owen. Elizabeth had designed this hat for the Shetland Wool Week festival that year, so it was a fitting assignment.
During the workshop, we dyed the pre-mordanted Shetland wool using a variety of natural dyes (logwood, cochineal, madder, osage orange), and we took home some of each of the dyed wool along with some natural (white, mid-grey, black). Mmmmmm!
This was really my first experience in working with wool straight off the sheep. It took me a while (months) to figure out what I wanted to do with it: scouring it, then combing it, and carding the leftovers from the comb. I spun the combed fibre with a short forward draw to produce worsted wool (shiny and lustrous!). I spun the carded wool long draw and made a woolen yarn. I used the worsted yarn for this hat. (Except for the cochineal, which was all carded and long draw).
Part of the fun of dyeing "in the wool" is that you can mix and match colours like paint. So, for this hat, I used 50/50 logwood blue dyed wool and osage orange (without the iron rinse) to make the green yarn, for example. And, I lightened up the madder by adding some white wool to the combs.
Literally, the possibilities are endless with this stuff!