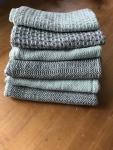 Woven Cotton Dish Towels (2018)
October 22, 2018 - No Comments
Pattern: Two simple twills for the dish towels; and then I worked out a "waffle-ish" weave for the hand towels, based on the threading and a new tie up.
Yarns:
Warp: 8/2 Cotton from The Mannings (white)
Weft: 8/2 Cotton from The Mannings (light green) for half the towels; 22/2 Cottolin (dark green) for weft of the other half
Method: Weaving — 8 shaft
Set up: 7 1/2 yards, 433 ends threaded at 20epi. Each towel woven to 38″ on the loom
Completed: October 22, 2018.
I put on 7 1/2 yards of warp, and wove 4 twill towels (two in each colour) and then figured out enough waffle weave to change the tie up of the shafts and make 2 waffle-ish towels as hand towels. There was, as expected, a lot of shrinkage once I washed them, although I was a bit surprised the waffle-ish ones didn't shrink a lot more than the twill ones. On the whole, I was pleased with the dimensions of the resulting towels.
On loom: 21 1/2" at the reed; 19 1/2"-wide woven fabric on loom. Wove to 38"-long under tension
Off the loom: Waffle towels were 20"W by 35 3/4"L; Dark "double point lozenge" twill was 19 1/2"W by 37"L; Light "double point lozenge" twill was 19"W by 37"L
Washed and dried: Light single diamond twill was 17 1/4"W by 30"L; Dark waffle was 17 1/4"W by 28 3/4"L