ITW Godric's Hollow Handspun (2016)
March 20, 2016 - No Comments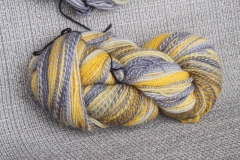 Fibre: Into the Whirled "Godric's Hollow" colourway on 85% Polwarth, 15% Silk.  4 – 4.3oz fibre.
Yarn:  Approx 390 yds 2-ply, and about 6 – 7 yards of chain-plied remainders of the longer ply.
Method: Wheel spun with long draw
Completed: March 19, 2016.
I split the roving in half at the middle (i.e., across the roving) and spun each using long  draw on the wheel.  This is my first serious attempt at long draw (and it shows!).   There are some fairly thick and some very thin sections of yarn.